Schumacher und Vettel starten für Team Deutschland
Schumacher und Vettel starten für Team Deutschland
Mick Schumacher und Sebastian Vettel fahren für Deutschland beim Race of Chammpions 2022
Sie werden wieder Teamkollegen – allerdings nicht in der Formel 1! Mick Schumacher (22/Haas) und Sebastian Vettel (34/Aston Martin) treten gemeinsam beim "Race of Champions" an.
+++ Mick Schumachers Teamchef: "Er hat die Anlagen zum Weltmeister"
Das findet am 5. und 6. Februar in Pite Havsbad (Nordschweden) statt. Es wird auf der gefrorenen Ostsee, nur 60 Meilen vom Polarkreis entfernt, ausgetragen. Bereits 2019 bildeten Vettel und Schumacher in Mexiko das "Team Deutschland" und traten in der Nationenwertung gegen die Piloten anderer Nationen an.
Ebenfalls am Start: Le-Mans-Sieger Tom Kristensen, Rallycross-Champion Johan Kristoffersson, der neunfache World-Rally-Champion Sebastien Loeb, der siebenmalige NASCAR-Cup-Champion Jimmie Johnson, ROC-Finalsieger Mattias Ekström, der zweimalige Formel-1-Weltmeister Mika Häkkinen, Noch-Mercedes- und Bald-Alfa-Romeo-Fahrer in der Formel 1 Valtteri Bottas, WRC- und Rallycross-Champion Petter Solberg sowie sein Sohn Oliver Solberg.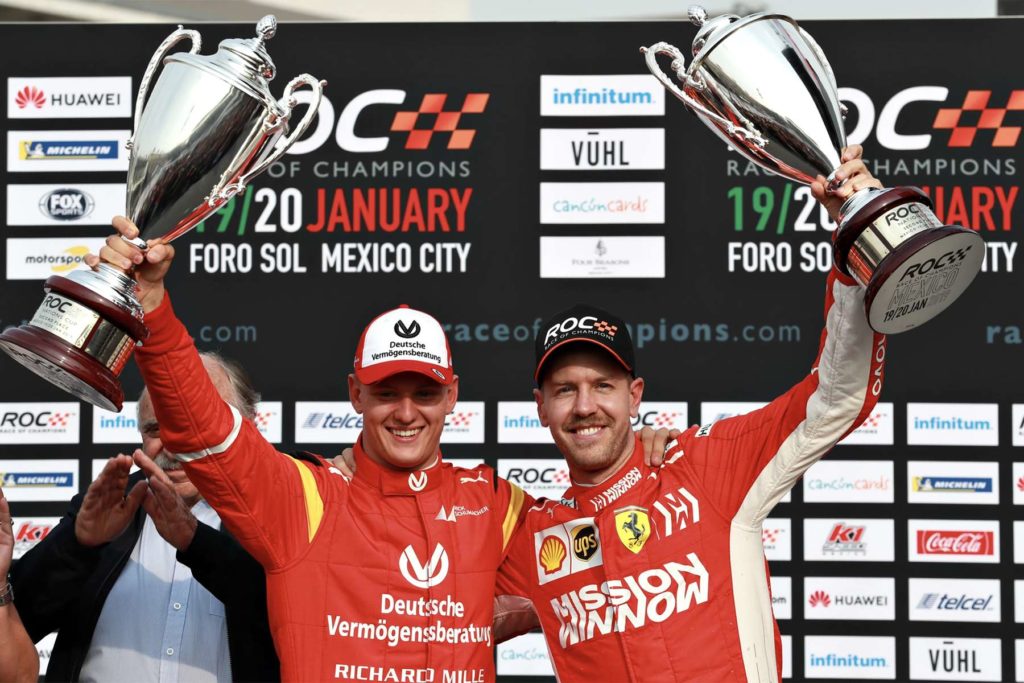 Die Konkurrenz ist also groß, doch das Ziel ist klar: "Ich freue mich sehr darauf, wieder beim Race Of Champions dabei zu sein und Deutschland gemeinsam mit Mick zu vertreten", sagt Vettel. "Beim ROC Mexico haben wir den zweiten Platz im Nations Cup belegt, daher ist es unser Ziel, in Schweden noch besser abzuschneiden."
Vettel ist ein alter Hase beim Race of Champions. 2022 wird es bereits seine zehnte Teilnahme. 2015 krönte er sich in London selbst zum "Champion of Champions". Gemeinsam mit Mick Schumachers Vater Michael holte er zwischen 2007 und 2012 sechs Mal den Team-Titel nach Deutschland.
FOLGT UNS AUF YOUTUBE!
Das ist F1-Insider.com
Mick Schumacher Fanshop 
Sie haben Kappen von Michael Schumacher gesammelt und wollen jetzt auch die von Sohn Mick Schumacher? Oder Sie suchen andere Mick-Schumacher-Fanartikel? Hier geht es zum Mick Schumacher-Fanshop: https://www.mickschumachershop.com/f1insider
A. F1
via F1-Insider.com https://f1-insider.com
November 24, 2021 at 11:42AM