F1's most dramatic clashes between title rivals
F1's most dramatic clashes between title rivals
The fallout and debate from the British Grand Prix collision between Lewis Hamilton and Max Verstappen has been nothing short of extraordinary.

Other than a stiff neck, Verstappen has been declared fit and healthy after his 51g impact at Copse.
Article continues under video
The incident, however, has now stoked the fires of a potentially heated title rivalry for the remainder of the season.
What unfolded between the Mercedes and Red Bull drivers has naturally brought back memories of great clashes between F1 title rivals in the past.
Here is the GPFans Global top five!
5. Sebastian Vettel and Mark Webber – Turkey 2010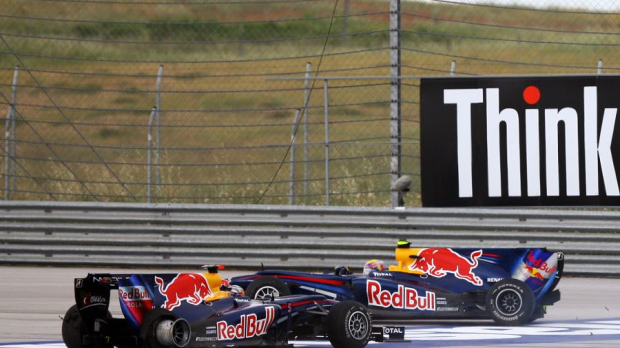 Whilst Vettel took the first of his four world championships in 2010, it is easy to forget the German only led the standings after the final race and never before that moment.
Red Bull's biggest chance for the title was Webber, who had taken two victories ahead of the Turkish GP to sit just behind McLaren's Jenson Button in the standings.
The Australian was leading at Istanbul Park as his team-mate closed in through turn 11 and down the straight. A slight move across from Vettel caused contact between the pair, resulting in Webber being forced to settle for third and the German retiring.
At the side of the circuit, Vettel gestured that his team-mate was crazy. The resultant divide would remain between the two drivers until Webber's 2013 retirement.
4. Michael Schumacher and Jacques Villeneuve – Jerez 1997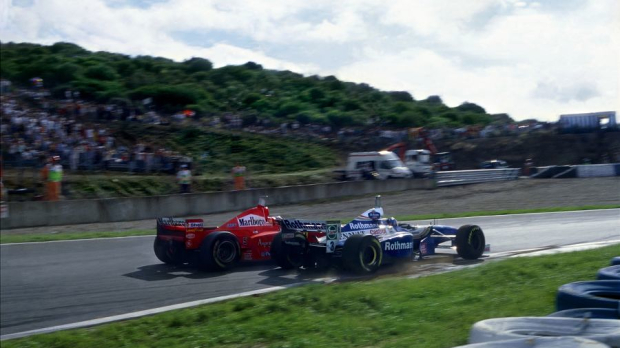 In 1997, Villeneuve battled Schumacher for the title in just his second season in the sport.
The fight went down to the wire in Jerez, with one of the most dramatic qualifying sessions ensuring tension remained high heading into the race as Schumacher, Heinz-Harold Frentzen and Villeneuve all posted identical times.
Tempers had already flared in practice as Ferrari used Schumacher's team-mate Eddie Irvine to block the Williams driver, following which an argument in the pits ensued.
Ahead of the grand prix, Villeneuve stated his only worry was being taken out of the race – a quote spoken only to disrupt rival Schumacher.
Villeneuve dropped from pole to behind Schumacher at the start but by lap 47, the pair were wing to wing.
The Canadian pulled to the inside of the hairpin to take the lead as Schumacher turned in, knowing the championship was over if Villeneuve finished ahead.
Cue the famous Martin Brundle line of "That didn't work, that didn't work, you hit the wrong part of him, my friend".
Contact was made but whilst Villeneuve continued to take the title, Schumacher was left in the gravel, and was later disqualified from the championship for his actions.
F1
via GPFans – The world's fastest-growing independent F1 community https://ift.tt/34OZ08v
July 21, 2021 at 09:36AM